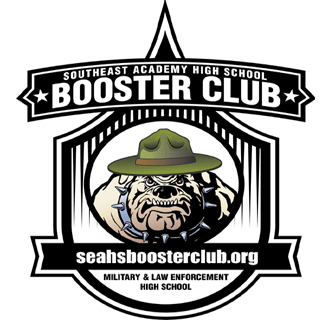 The Booster Club is a volunteer organization that helps raise and allocate funds to support Southeast Academy High School programs to help enhance the experience of all student athletes. Donations from our members supplement district funding (that tends to fall short) to cover the essentials necessary to help keep our Drill Competition and other programs operating at a high level.
If you have already signed up for the SEAHS Booster Club, we THANK YOU! If you have not yet paid your membership fee, encourage you to pay your $5.00 fee today. The Booster Club's goal is to raise $50,000. In addition to membership donations we have sponsorship opportunities and fundraisers. Please see the SPONSORS link on our website, www.seahsboosterclub.org.
To complete your SEAHS Booster Club membership, please mail your $5.00 fee to: SEAHS Booster Club Treasurer at P.O. Box 571, Norwalk, CA 90650.
BECOME A BOOSTER CLUB VOLUNTEER! FOR MORE INFO, PLEASE FEEL FREE TO CONTACT ANY BOARD MEMBER LISTED ON OUR WEBSITE, WWW.SEAHSBOOSTERCLUB.ORG.